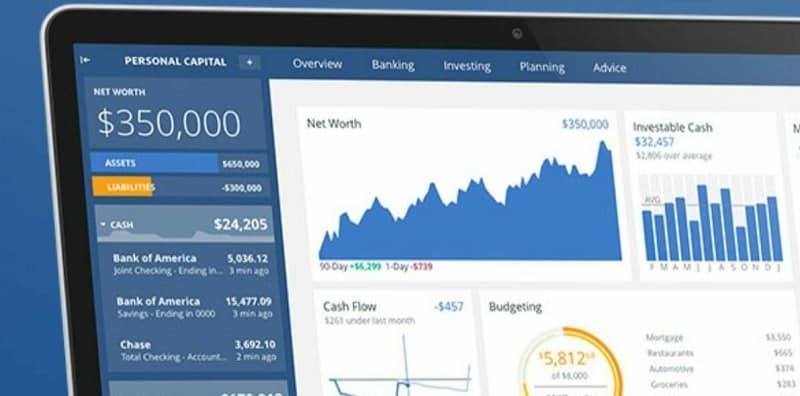 Personal Capital is a free and easy-to-use personal financial software that syncs up all your accounts in one location. It creates summaries of your spending, net worth, and your investment portfolio. Join now with our referral link and enjoy a $20 Amazon gift card bonus.
This robo-advisor offers two services in one. With the free financial tracking tool, you can monitor your spending and your bank, credit card and investment accounts in one place. In addition, you can enjoy the free Retirement Planner, one of the most comprehensive calculators available.
If you need more advice tailored to you, there's the paid financial advisory service, providing a combination of computer-generated advice and personal consultations with a team of dedicated human advisors.
Personal Capital Robo-Advisor Information
Account Type: Brokerage
Availability: Nationwide (Bank Locator)
Expiration Date: None
Hard Inquiry: Unknown. Let us know!
Credit Card Funding: None
Direct Deposit Requirement: None
Additional Requirements: None
Early Termination Fee: None listed
How Personal Capital Works
Personal Capital's free version is 100% free. Although Personal Capital provides the same custom-made advice you'd expect from any robo-advisor, plus consultations with real people, they offer plenty of valuable tools available in its free version.
You can link all of your existing checking, savings, mortgage, credit card, retirement, and investment accounts and track your spending, create a budget, monitor your net worth, find out how far along you are on your retirement savings journey and analyze your fees at no cost. Just sign up and start managing your financial account.
With the Retirement Planner, you can determine whether or not you have enough saved for retirement. Access spending goals and income events and project future portfolio value. Then the Retirement Planner pulls all this together and tells you how you're doing on your retirement goal.
Personal Capital's Retirement Planner is one of the most comprehensive tools available. You can alter the variables and play with many financial what-if scenarios. Your assets and accounts don't have to be entered manually, as the information is already there.
Personal Capital Bonus Requirements
Open a new Personal Capital Brokerage account if you haven't already.
Link at least 1 of your 401(k), IRA, or brokerage accounts with your new Personal Capital account in order to qualify for the $20 reward.
Refer friends for a new account to earn more $20 rewards.
Enjoy your investment opportunities by using Personal Capital for free!
Conclusion
Personal Capital's free services are quite good. Overall, it's an excellent value for the comprehensive level of analysis you get with a robo-advisor. Their finance software is currently the best online service to monitor your portfolio.
Although they do have a slightly higher than average management costs to those of a qualified Financial Advisor, you're still getting the bang for your buck. Though, there are other providers who can provide you with this same service at a fraction of the cost.
Take advantage of the retirement planning tool. It's easy to use, and you can play out a number of different scenarios. Their investment checking tool is also useful for getting high-level recommendations. In addition, you're not obligated to use their paid wealth management services.
For those who don't know how to allocate their investments appropriately, Personal Capital can surely help guide you. If you're interested, you should consider their lower-than-average-cost financial advisory service with a $20 referral bonus. If not, see our list of the best robo-advisors we recommend. In addition, you may want to check out our full list of broker bonuses to sign up for bonuses when applying for a new account.