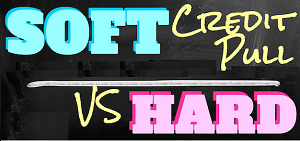 Below you will find the most comprehensive list of Hard Pull/Soft Pull aka Hard Inquiries/Soft Inquiries on all banks in the United States.
When opening a checking or savings account to take advantage of the higher interest rates or sign-up bonuses, it's important to know whether to the bank will do a hard pull or a soft pull.
Having too many hard inquiries can negatively affect your credit score with higher interst loan or insurance rates. Therefore it may not be worth opening the checking or savings account.
Based on the reported experiences of the many consumers online from sites such as FicoForums, Slickdeals, CreditBoards, Flyertalk, etc, we'll put together the most extensive list of Banks(alphabetically) on the type of inquiry they will perform whenever opening a checking or savings account.
Click on Review to read more in-depth explanation for each bank bonus such as direct deposit(full list of what count), account type, expiration date, hard or soft pull, credit card funding, geographical restrictions, additional bonus requirements, and early closure fee. Please help us update our list with your own personal experience by commenting below.
Disclaimer: We make no promise the information below is 100% correct since banks change their way of checking credit often.
Hard Pull/Soft Pull Top 100 Banks(Alphabetical):
Bank or Credit Union
Hard Pull/ Soft Pull
Credit Bureau
Confirmation
Review
Ally Bank
Soft Pull

Review

Amegy Bank
Review
American Express Bank
Review
Arvest Bank
Soft Pull
ChexSystems
CSR email
Review
Associated Bank
Soft Pull
1

Review

Astoria Bank (Now called Sterling National Bank)
Soft Pull
ChexSystems
1

Review

Banco Popular
Review
BancorpSouth Bank
Soft Pull
ChexSystems
1

Review

Bank of America
Soft Pull
ChexSystems
1

Review

Bank of China
Review
Bank of Hawaii
Soft Pull
ChexSystems
CSR email

Review

Bank of the West
Soft Pull
ChexSystems
1, 2

Review

BankUnited
Review
Barclays Bank
Review
BB&T
Mixed
Equifax
1 (Soft), 1 (Hard)

Review

BBVA Compass
Soft Pull
TransUnion
1, 2

Review

BMO Harris Bank
Soft Pull
ChexSystems
1, 2

Review

BOK Financial
Soft Pull
1

Review

BrightStar Credit Union
Soft Pull
ChexSystems
1

Review

Capital One 360
Soft Pull
ChexSystems/Equifax
1

Review

Charles Schwab Bank
Hard Pull
Equifax
1
Soft Pull 1 (Opted out of Margin trading)

Review

Chase Bank
Soft Pull
ChexSystems
1

Review

CIT Bank
Soft Pull
1

Review

Citibank
Soft Pull
ChexSystems
1, 2, 3, 4, 5

Review

Citizens Bank
Soft Pull
Equifax
1

Review

City National Bank
Review
Comerica Bank
Soft Pull
1

Review

Commerce Bank
Soft Pull
1

Review

Credit Union One
Soft Pull

Review

Customers Bank
Soft Pull
1

Review

Deutsche Bank Trust Company Americas
Soft Pull
Schufa
CSR email
Review
Discover Bank
Soft Pull
ChexSystems
1

Review

E*TRADE Bank
Review
East West Bank
Review
Eastman Credit Union
Soft Pull
ChexSystems
1

Review

EverBank
Review
Fifth Third Bank
Soft Pull
ChexSystems
1

Review

FirstBank
Soft Pull

Review

First Citizens Bank & Trust Company
Hard Pull
Equifax
1, 2

Review

First Hawaiian Bank
Review
First Merchants
Soft Pull
ChexSystems
1, 2, 3

Review

First National Bank of Omaha
Review
First National Bank of Pennsylvania
Review
First Republic Bank
Soft Pull
1

Review

First Tennessee Bank
Soft Pull
ChexSystems
1

Review

Frost Bank
Soft Pull
ChexSystems
CSR email
Review
Goldman Sachs Bank USA
Review
Great Southern Bank
Soft Pull
1

Review

HSBC Bank USA
Soft Pull
ChexSystems
1

Review

Hudson City Savings Bank
Review
Iberiabank
Review
KeyBank
Soft Pull
Equifax
1

Review

Manufacturers and Traders Trust Company
Soft Pull
ChexSystems
CSR email

Review

MB Financial Bank
Soft Pull
ChexSystems
1

Review

MemoryBank
Soft Pull
1

Review

Nationwide Bank
Soft Pull
ChexSystems
1

Review

New York Community Bank
1

Review

OneWest Bank
Soft Pull
ChexSystems
1

Review

Pacific Western Bank
Review
People's United Bank
Soft Pull
ChexSystems
CSR email

Review

PNC Bank
Soft Pull
ChexSystems
1

Review

Prosperity Bank
Soft Pull
E-Funds
CSR email
Review
Rabobank
Review
Raymond James Bank
Review
Regions Bank
Soft Pull
ChexSystems
1
Review
Sallie Mae Bank
Soft Pull
ChexSystems
1
Review
Santander Bank
Soft Pull
ChexSystems
1

Review

Scottrade Bank
Soft Pull
Equifax
Review
Signature Bank
Soft Pull
ChexSystems
CSR email
Review
State Farm Bank
Review
SunTrust Bank
Review
Susquehanna Bank
Soft Pull
ChexSystems
Review
Synchrony Bank
Review
Synovus Bank
1

Review

TCF National Bank
Soft Pull
1

Review

TD Bank
Soft Pull
ChexSystems
1
Review
Texas Capital Bank
Soft Pull
ChexSystems
CSR email.
Review
The Bank of New York Mellon
Review
The Huntington National Bank
Review
The Northern Trust Company
Review
The PrivateBank and Trust Company
Review
Trustco Bank
Soft Pull
ChexSystems
1

Review

U.S. Bank
Soft Pull
ChexSystems
1
Review
UBS Bank USA
Review
UMB Bank
Soft Pull
ChexSystems
CSR email
Review
Umpqua Bank
Review
Union Bank
Soft Pull
1

Review

USAA Federal Savings Bank
Soft Pull
ChexSystems
CSR email
Review
Valley National Bank
Review
Washington Federal
Soft Pull
ChexSystems
CSR email
Review
Washington Savings Bank
Soft Pull
ChexSystems
1

Review

Webster Bank
Review
Wells Fargo Bank
Soft Pull
ChexSystems
1, 2
Review
Whitney Bank
Review
Zions First National Bank
Review
Hard Pull/Soft Pull Regional Banks(Alphabetical):
Bank or Credit Union
Hard Pull/ Soft Pull
Credit Bureau
Confirmation
Review
1st Constitution Bank
Soft Pull
1

Review

A+ Federal Credit Union
Review
Advance Financial Federal Credit Union
Soft Pull
ChexSystems
CSR email
Review
All America Bank
Soft Pull
ChexSystems
1


Review

Alliant Credit Union
Soft Pull
ChexSystems
1

Review
America's Credit Union
Hard Pull
1
Review
American Express Bluebird
Soft Pull
ChexSystems
1, 2
Review
American Express Serve
Soft Pull
ChexSystems
1
Review
American Heritage FCU
Hard Pull
Experian
1
Review
Anchor Bank
Soft Pull
ChexSystems
1
Review
Andigo
Soft Pull
1

Review

Apple Bank
Soft Pull
1

Review

Arizona Central Credit Union
Hard Pull
Equifax
CSR email
Review
Arizona State Credit Union
Soft Pull
ChexSystems
CSR email
Review
Ascend Federal Credit Union
Hard Pull
1

Review

Ashland Credit Union
Soft Pull
1

Review

Avidia Bank
Soft Pull
ChexSystems
1
Review
Ballston Spa National Bank
Soft Pull
1

Review

BankDirect
Soft Pull
ChexSystems
1
Review
Bank Of Canton
Soft Pull
1

Review

Bank Of Colorado
Soft Pull
ChexSystems
1

Review

Bank Of Lee's Summit
Soft Pull
ChexSystems
CSR email
Review
Bank Of Maine
Soft Pull
ChexSystems
CSR email
Review
Bank Of Oklahoma
Soft Pull
1

Review

BankWell
Soft Pull
1

Review

BankPurely
Soft Pull
ChexSystems
1

Review

Belco Community Credit Union
Soft Pull
1

Review

Bell Bank
Soft Pull
1

Review

Bellco Credit Union
Soft Pull

Review

BMI FCU
Hard Pull
1

Review

Bridgeview Bank
Soft Pull
1

Review

BrightStar Credit Union
Soft Pull
ChexSystems
CSR email
Review
Bryn Mawr Trust
Soft Pull
ChexSystems
1

Review

Cambridge
Savings Bank
Soft Pull
Chexystems
1

Review

Campus USA Credit Union
Hard Pull
1

Review

Capital Bank
Soft Pull
Chexsystem
1

Review

CBT Bank
Soft Pull
Chexystems
1

Review

Christian Community Credit Union
Soft Pull
ChexSystems
1

Review

Chartway Credit Union
Soft Pull
ChexSystems
CSR email
Review
CIBC Bank
Soft Pull
ChexSystems
1

Review

Cincinnati Federal
Soft Pull
1

Review

Cinfed Credit Union
Hard Pull
Experian
1

Review

Clearview Federal Credit Union
Soft Pull
1

Review

Clinton Savings Bank

Soft Pull
Equifax
1


Review

Columbia bank
Soft Pull
1

Review

CommunityAmerica Credit Union
Hard Pull
TransUnion
1

Review

Community First Credit Union of Florida
Review
Consumers Credit Union
Hard Pull
Equifax
1
Review
Credit Union of Denver
Hard Pull
1

Review

Dedham Savings Bank
Soft Pull
ChexSystems
1

Review

East Boston Savings Bank
Soft Pull
1

Review

Elements Financial
Soft Pull
ChexSystems
1, 2

Review

Evansville Teachers FCU
Soft Pull
ChexSystems
1

Review

FEDCOM Credit Union
Review
Fidelity Bank (PA)
Soft Pull
ChexSystems
1

Review

First Advantage Bank
Hard Pull
TransUnion
1

Review

First Bank And Trust
Soft Pull
1

Review

First Bank Financial Centre
Soft Pull
ChexSystems
CSR email
Review
First National Bank
Soft Pull

Review

First National Bank(UT)
Soft Pull
1

Review

First Mark Credit Union
Hard Pull
Equifax
1
Review
First Nebraska Educators Credit Union
Review
First Tech Federal Credit Union
Hard Pull
Equifax and TransUnion
1

Review

First United Bank
Soft Pull
1

Review

Flushing Bank
Soft Pull
ChexSystems
CSR email
Review
FOCUS Bank
Soft Pull
ChexSystems
1

Review

FNCB
Review
Fulton Bank
Soft Pull
ChexSystems
1
Review
Freedom Federal Credit Union
Review
Great Lakes Credit Union
Hard Pull
1
Review
GTE Financial
Hard Pull
1
Review
HarborOne Bank
Soft Pull
1

Review

Heartland Credit Union
Review
Heritage Credit Union
Soft Pull
1

Review

HeritageWest Credit Union
Soft Pull
1

Review

HomeStreet Bank
Soft Pull
ChexSystems
1

Review

Huntington Bank
Soft Pull
ChexSystems
1
Review
ICBC USA
Soft Pull
ChexSystems
1

Review

Ideal Credit Union
Soft Pull
ChexSystems
1

Review

Integrity Bank
Soft Pull
1

Review

Investors Bank
Soft Pull
1

Review

Iowa State Bank
Hard Pull
TransUnion

Review

Johnson Bank
Soft Pull
ChexSystems
CSR email
Review
Justice FCU
Hard Pull
ChexSystems
1

Review

Kinecta Federal Credit Union
Soft Pull
1

Review

Lake Michigan Credit Union
Hard Pull
Experian
1
Review
Lake Shore Savings
Hard Pull
ChexSystems
1

Review

Landmark Credit Union
Soft Pull
ChexSystems
CSR email
Review
Legacy Texas Bank
Soft Pull
CSR chat

Review

Level One Bank
Soft Pull
ChexSystems
1, 2

Review

LGE Community Credit Union
Hard Pull
1

Review

Logix Credit Union
Hard Pull
Experian
1
Review
Main Street Bank
Soft Pull
1

Review

Mainstreet Credit Union
Hard Pull
TransUnion

Review

Mango Money
Soft Pull
ChexSystems
1
Review
Marquette Bank
Soft Pull
ChexSystems
1, 2
Review
McGraw Hill FCU
Soft Pull
ChexSystems
1

Review

Melrose Bank
Soft Pull
ChexSystems
1

Review

Middlesex Savings Bank
Soft Pull
ChexSystems
1
Review
MidFirst Bank
Soft Pull
ChexSystems
1

Review

Monroe Bank & Trust
Soft Pull
ChexSystems
1

Review

MVB Bank
Soft Pull
ChexSystems
1

Review

My Banking Direct
Soft Pull
ChexSystems
1

Review

M&T Bank
Soft Pull
ChexSystems
1
Review
NASA FCU
Hard Pull
1

Review

Nevada State Bank
Soft Pull
ChexSystems
1

Review

Newtown Savings Bank
Soft Pull
ChexSystems
1

Review

Northfield Bank
Hard Pull
ChexSystems
1

Review

Northfield Bank
Hard Pull
1

Review

North Shore Bank
Soft Pull
ChexSystems
1

Review

Northern Bank Direct
Soft Pull
CSR Email

Review

Northpointe Bank
Soft Pull
ChexSystems
1

Review

Northwest Bank
Soft Pull
1

Review

Northwest Savings Bank
Soft Pull
ChexSystems
1

Review

Nutmeg Credit Union
Hard Pull
CSR email
Review
NuVision Federal Credit Union
Soft Pull
ChexSystems
CSR email
Review
OceanFirst Bank
Soft Pull
ChexSystems
CSR email

Review

Old Missouri Bank
Soft Pull
1

Review

Old National Bank
Soft Pull
1

Review

Old Second Bank
Soft Pull
1

Review

Orange County Credit Union
Review
OUR Credit Union
Hard Pull
1

Review

Pacific Service Credit Union
Review
Patelco Credit Union
Soft Pull
1
Review
Pelican State Credit Union
Hard Pull
Equifax
1, 2
Review
PeoplesBank
Soft Pull
ChexSystems
CSR email

Review

Peoples Bank
Soft Pull
ChexSystems
CSR email
Review
Pinnacle Bank
Soft Pull
ChexSystems
CSR email
Review
Popular Community Bank
Soft Pull
ChexSystems
1, 2
Review
Premier America Credit Union
Soft Pull
1

Review

Provident Credit Union
Hard Pull
ChexSystems
1, 2
Review
Public Service Credit Union
Review
Radius Bank
Soft Pull
ChexSystems
1
Review
Real Peoples Bank
Review
Reliant Community Credit Union
Soft Pull
1

Review

Republic Bank
Hard Pull
TransUnion
1

Review

Ridgewood Savings Bank
Soft Pull
ChexSystems
1

Review

Rivermark Community Credit Union
Hard Pull
1

Review

Royal Credit Union
Soft Pull
1

Review

S&T Bank
Soft Pull
1

Review

Salal Credit Union
Soft Pull

Review

Salem Five Bank
Hard Pull
Equifax
1, 2, 3
Review
San Mateo Credit Union
Soft Pull
1

Review

Sandy Spring Bank
Soft Pull
1

Review

Savings Bank of Danbury
Soft Pull
1

Review

Sb1 Federal Credit Union
Review
Seacoast Bank
Soft Pull
1

Review

SELCO Credit Union
Hard Pull
1

Review

Signature Bank of Georgia
Soft Pull
1

Review

Simple Bank
Soft Pull
1

Review

Sound Credit Union
Soft Pull
ChexSystems
1

Review

Spire Credit Union
Hard Pull
Equifax
CSR email
Review
Security Service Federal Credit Union
Soft Pull
ChexSystems
1
Review
State Bank of India
Soft Pull
ChexSystems
1

Review

State Employees Credit Union
Soft Pull
1

Review

Stoneham Credit Union
Soft Pull
1

Review

Suburban Bank & Trust
Review
Sun East FCU
Soft Pull
ChexSystems
1

Review

Suntrust
Soft Pull
ChexSystems
1, 2
Review
Telhio Credit Union
Hard Pull
Equifax
1

Review

Texas Dow Employees Credit Union
Hard Pull
CSR email
Review
TIAA Direct
Soft Pull
1

Review

Truity Credit Union
Hard Pull
Transunion
1

Review

TruMark Financial Credit Union
Review
TruStone Financial
Soft Pull

Review

TruWest Credit Union
Hard Pull
Experian
Review
UFB Direct
Soft Pull
ChexSystems
1

Review

Unify Financial Credit Union
Soft Pull
ChexSystems
1

Review

Union Community Bank
Soft Pull
1

Review

Union Plus Prepaid
Soft Pull
ChexSystems
1
Review
Unitus Community Credit Union
Soft Pull
Equifax and TransUnion
1

Review

USAlliance Financial
Soft Pull
1

Review

Valley Bank
Review
Valor Credit Union
Hard Pull
1
Review
Watertown Savings Bank
Review
WesBanco
Soft Pull
ChexSystems
1
Review
Xenith Bank
Soft Pull
ChexSystems

Review