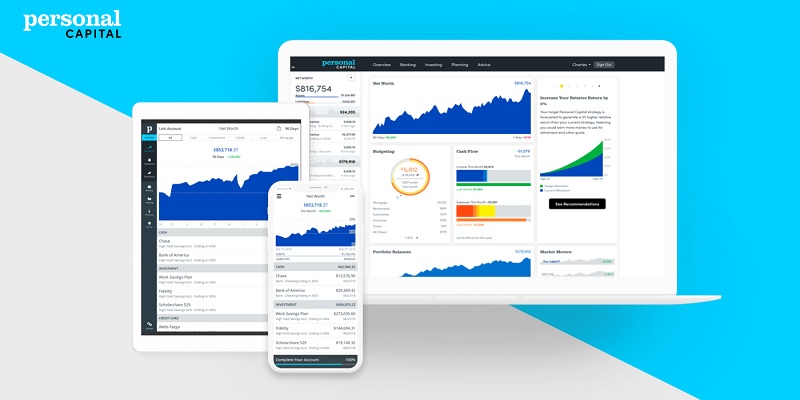 Founded by the former CEO of PayPal and Intuit, Personal Capital provides a managed service targeted toward clients with higher balances. Additionally, they also offer a range of free financial management tools.
If you're looking for a free financial planner, check out SmartAsset.
Their strategy is a combination of highly trained human advisors paired with robo-advisors.
Accounts with a balance of $200,000+ will receive two dedicated financial advisors. Balances betwen $100k – $200k will also get access to this support, however it is provided by a team of financial advisors instead of dedicated individuals.
Compare the best money transfer services with SuperMoney
.
(Click here to learn more about Personal Capital)
---
What Are Personal Capital's Credentials?
Personal Capital has over 1.6 million users and managed assets of more than $6.5 billion.
They offer many free products, including their investment management tools that can be accessed through an app. Furthermore, their free financial tracking tool is good because you can link any existing accounts. This will allow you to keep track of your overall portfolio performance, net worth, overall retirement progress and fees. Furthermore, you can add bank accounts, IRA, 403(b), 401(k), taxable investments, mortgage, credit cards, and other investments such as the peer-to-peer lending services offered by LendingClub.
However, make sure you note that they have relatively high account management fees. You will be charged 0.89% annually, which is higher than other robo-advisors such as Wealthfront and Betterment.
---
Who Is Personal Capital Suitable For?
If you prefer a hands-off approach to the management of your investments, then Personal Capital is a good choice for you. Additionally, it's great for those who want assistance with tax optimization strategies.
Since they offer a wide variety of free services, this is great for DIY investors that want free tools to help with financial management.
Furthermore, high-net-worth individuals will receive access to dedicated personal financial advisors. Also, DIY investors will receive a comprehensive range of tools to analyze their own portfolios without needing to buy-in, or pay for portfolio management services.
---
Summary Of Personal Capital
Their free services are definitely worth it. They provide a great value for the comprehensive level of analysis you receive.
Although their management costs are relatively higher than a qualified financial advisors, you are still getting a great deal in comparison. However, with that being said, there are other providers that can give you this same service at a lower cost.
They offer a retirement planning tool that is great and easy to use. Also, their investment checking tool is handy for DIY investors who want high-level recommendations.
Since their Wealth Management Services are relatively expensive, those who need frequent Financial Advisor Support mind find it the most suitable to get the most return on investment. With regards to the robo-advisor feature, there are more competitive ones out there.
---
Conclusion
If you are interested in the features offered with Personal Capital, I recommend you open an account. You can sign up here to receive all the great features to help you manage your money.
Feel free to share your thoughts and comments about this referral bonus and let us know your experience using Personal Capital. Bookmark this page and check back often for Personal Capital promotions, bonuses, and offers.