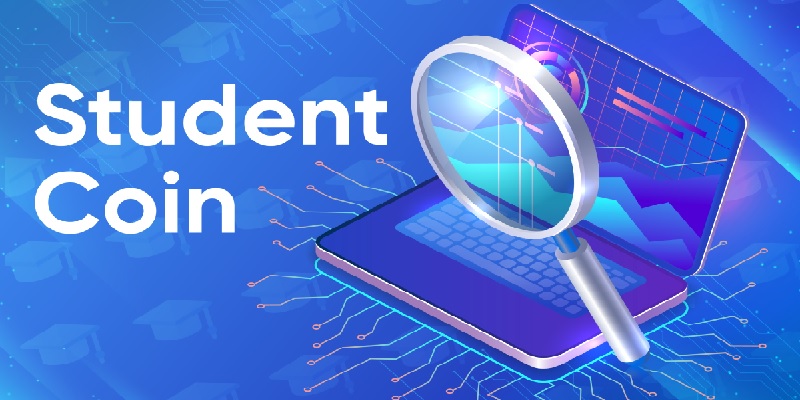 Student Coin (studentcoin.app) is welcoming new users with a 100 STC bonus, valid university email from a supported school required. With the referral program, you'll earn either 20% of ETH invested or 30% of STC purchased by each person you've referred.
Check out free Bitcoin bonuses and other cryptocurrency promotions here. Great offers can be from: Voyager, Coinbase, BlockFi, and more.
Most cryptocurrencies dream of mainstream adoption. Coins try to engage a niche in the market. While most focus on fintech and trade, Student Coin targets university students with goals to educate on blockchain technology and foster early adoption.
Read below for more information Student Coin and their current offers.
Student Coin 100 STC Welcome Bonus
Receive a 100 STC bonus if you're a faculty member, student, or alumni from a supported university and you use your university email to sign up for Student Coin. This offer is valid for new members only. Click here for a list of supported schools.
(Visit for more information)
Up to 30% Commission Referral Program
Share Student Coin with friends and earn either 20% of ETH invested by each person you referred or 30% of STC purchased by each person you've referred. So if you've referred two people that invest in a total of 5 ETH and bough 450,000 STC, you'll receive 1 ETH or 135,000 STC that invested in a total of 5 ETH and bought 450,000 STC, you'll receive 1 ETH or 135,000 STC.
To partake, you have to have a Student Coin account.
Feel free to leave your referral down in the comments section below.
Student Coin Features
As its name suggests, Student Coin was designed to introduce cryptocurrency and blockchain to students. STC is a coin created to tokenize modern education systems and develop a multi-university blockchain network that connects colleges all over the world. By doing so, the Student Coin token pushes the acceptance of blockchain technology worldwide and facilitates crypto adoption. Student Coin currently supports over 500 universities in 36 countries.
STC is based on two blockchains, Ethereum and Waves. The Ethereum blockchain allows STC exchanges and trading. The Waves blockchain lets users create custom blockchains. Student Coin is based on the Delegated Proof of Stake consensus (DPoS), which offers higher speeds as well as protection. Right now, STC is distributed primarily on airdrops to widen acceptance and popularity among its target group.
Education and STC database. The main purpose of Student Coin is to provide cryptocurrency and blockchain education. It will offer online classes on blockchain, finance and other related subjects. By providing information on the STC database and implementing blockchain at universities, the project prepares students to accept and use crypto.

STC exchange and trading. You can trade the Student Coin on cryptocurrency exchanges. To date, STC has been listed on five markets.

Utility tokens. Use Student Coin to access utilities within the school set up and pay for essential services. This is made possible via the native mobile app (in development) that will function as a wallet, exchange and coin transfer.

STC ecosystem. Student Coin offers a wide network for students to interact with other universities, businesses and investors. STC lets students, student groups and academic institutions seek funding for their projects from investors around the world.
Student Coin is projected to impact:
Voting. STC will play a role in holding internal elections, selecting student committees and signing petitions.
Data storage. Blockchain offers a more secure, less bulky, smoother and faster storage option for handling data and information.
Minor tokens. Create other tokens for specific universities and faculty. Each college can have a specialized token to serve different roles, with values based on the initial Student Coin.
Conclusion
Student Coin educates students on blockchain and enables universities to become more modern and advanced by implementing blockchain into their systems. Thi will encourage the spread and acceptance of cryptocurrency and blockchain. Thus, it will propel interaction with many universities worldwide.