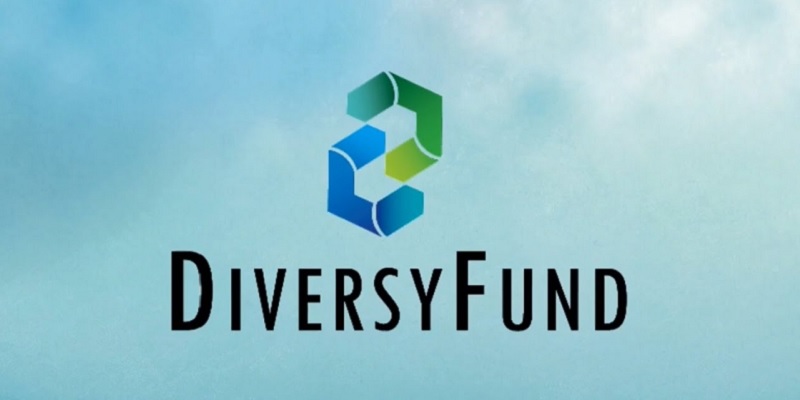 DiversyFund is a real estate investment option that offers daily investors access to multi-million dollar real estate utensils with a starting rate of $500. DiversyFund is a great choice if you are a non-accredited investor that wants to add more diversity to their portfolio beyond stocks and bonds.
Compare Diversity Fund with other real estate investing options like Fundrise, Streitwise, Landa App, Groundfloor, Happy Nest, and CrowdStreet.
(Visit for more)
DiversyFund $50 Amazon Gift Card Offer
Sign up then fund your account with $500 to receive a $50 Amazon gift card when you apply promo code Diversy50.
DiversyFund $100 Amazon Gift Card Referrals
Receive a $100 Amazon gift card when you invest with DiversyFund. Your referrals also gets $100.  See more details about the referral program here.
---
DiversyFund Quick Facts
| | |
| --- | --- |
| Investment Offerings | Growth REIT, IPO |
| Investment Accounts | Individual & joint, trusts, retirement (self-directed IRA), certain entity accounts |
| Investment Amounts | $500 – $1,000,000 |
| Accredited Investor Status | Not required |
| Availability | All 50 states |
Pros
Invest with just $500
Higher historical returns than stocks
No accredited investor requirement
Available for self-directed IRA accounts
Available in all 50 states
No expensive broker fees
Cons
Private REIT (not tradeable)
"Blind pool" investments
Long-term investment (5 years)
DiversyFund $50 Amazon Gift Card Bonus
Fund your DiversyFund after you sign up with $500 to receive a $50 Amazon gift card when you apply the code Diversy50.
(Apply promo code)
DiversyFund $100 Amazon Gift Card Referral Bonus
Earn a $100 Amazon gift card when you invest with DiversyFund and $100 for each qualifying referrals made. Learn more about their referral program.
DiversyFund Investment Offerings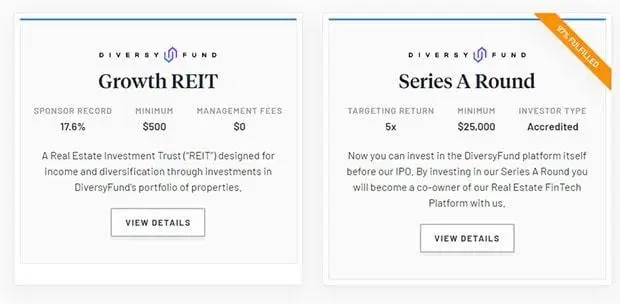 DiversyFund has 2 investment options such as: DiversyFund Growth REIT or Diversyfund Series A Round. Majority of this article will mainly focus on the DiversyFund Growth REIT (more on that below).
Growth REIT
Series A Round
DiversyFund Growth REIT will enable you to invest in a portfolio of properties without getting involved with managing all of them. This is as easy as a basic paper investment.
The DiversyFund Growth REIT:
Focuses on apartment buildings
Requires zero management fees
Is SEC-qualified
Is a private REIT
You will get $10 for every share you've made. With that in mind, you need at least $500 investment to be able to buy 50 shares.
Having a $500 minimum is pretty low, thus having more availability for more people.
Investments will be seen as a preferred equity. In other words, you will receive both dividend distributions with capital appreciation for the sale of the properties in the funds.
With the DiversyFund Series A Round is a direct investment towards the company themselves. This is considered an initial public offering (IPO), it comes with the opportunity to be a co-owner of a DiversyFund Real Estate FinTech Industry. This company's objective is to be the go to substitute investment platform for daily investors.
But, the Series A Round investment isn't for everyone. They have some requirements such as: having accredited investor status and at least $25,000 for investments. The IPO time frame is about 2-4 years, looking for a 10x return on at least a 2 year investment. Obviously, their numbers are very risky, this is why they require an accredited investor status.
How It Works
Rather than acting like a broker, they are more like an investing partner when it comes to investing in apartment buildings. In other words, there aren't any investment fees and it won't make money unless you're making money.
Here's how it works:
Acquisition. This fund will purchase multi-family apartment buildings that have rented units, they even have an operating revenue. But, the properties are bought at a small price since they need to improve them.
Renovations. If you want more cash to come in, every building will have complete renovations in 1 year of buying it. The renovations will let the fund raise the rent and value of the building property.
Holding period. Every investment will be held for about 5 years, this will enable it to increase in value.
Distributions. Distributions for cash coming in (rent income, etc) will be reinvested every month for investors until the property is sold and the last final return is given.
Here's how DiversyFund returns work:
Their investors will be secure with a 7% preferred return before DiversyFund gets any money split.
Once the preferred return is over, there will be a 35/65 profit share with DiversyFund and their investor partners.
After the investors have made at least 12% each year, the profit split will change to 50/50.
Once 5 years have passed, the property will be sold and their profits will be split with the buyer.
Why DiversyFund?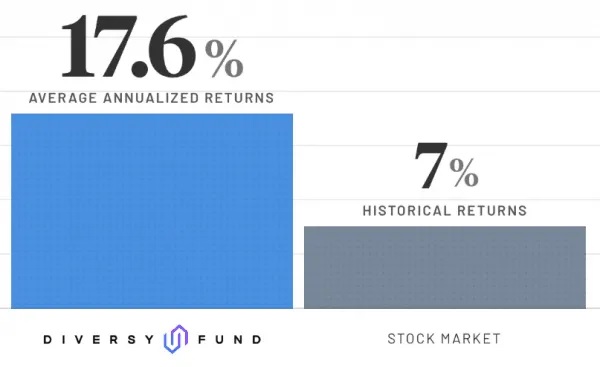 To begin, there won't be accredited investor requirements, you will be able to invest with at least $500. With this in mind, DiversyFund Growth REIT is available to all their investors.
If you need another appealing reason to sign up with DiversyFund, their average annual return rate is more than 17%. This is larger than what you would normally receive in stocks for any other investment platform.
DiversyFund will invest first in multi-family apartment buildings. It is important since apartment buildings are one of the top best performing and reliable section of real estate. If you look into it more, everyone needs to live somewhere. With their recessions, the apartment platform will normally be stronger. Since there are fewer people that aren't able to afford their own homeownership and will go to renting instead.
DiversyFund owns and manages all of their own utensils and assets. With this, it isn't necessary to have a third party involved with their fees. In other words, you won't need to pay for management or additional platform fees.
By investing with DiversyFund, you will be able to scatter your risks between multiple properties. Meaning, losing a single property will be kept at a minimum.
DiversyFund Fees
There won't be any additional fees for investors, DiversyFund won't charge you a sales commission.
Conclusion
You will be able to invest into normal stocks and bonds with DiversyFund. All you need is to start with at lest $500. The Growth REIT is an amazing option to diversify your own personal portfolio. It also looks great when you're with some lucrative sectors for the real estate platform.
(Visit DiversyFund for more information)