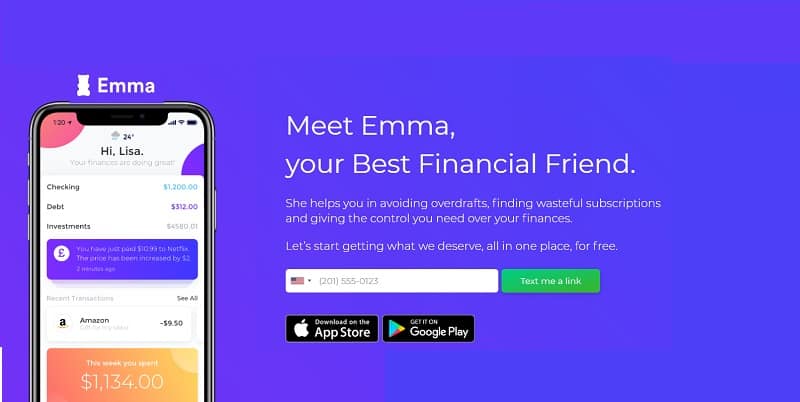 If you want the latest Emma bonuses or promotions, be sure to check here for frequent updates!
Emma App is a money management app that originated from London, Emma has now expanded to the United States. All you have to do is connect to your bank or credit card account.
With Emma, you can track your transactions in real time and set budgets for yourself. In addition to that, you'll also avoid overdraft charges, find wasteful subscriptions and discover insights into your spending.
PROS
Easy to use
Budgeting tools
Comprehensive analysis
Financial insights
Cryptocurrency integration
CONS
No savings category
Rewards paid by PayPal
Not all banks are supported
If you are interested in what other bonuses Emma has, continue reading the review below.
About Emma App
Emma can sync your budgets, salary, payments etc and send your reminders concerning other future financial issues. They also combine all your existing account, credit cards and investments and presents them as real-time data on personal finances.
When you use Emma, it's easy to use, offers budgeting utensils, comprehensive analysis, financial insights, and cryptocurrency integration. However, there are some downsides like: no savings options, rewards are paid with PayPal, and not all banks are supported.
Emma is compatible with these banks:
When you use Emma, it's easy to use, offers budgeting utensils, comprehensive analysis, financial insights, and cryptocurrency integration. However, there are some downsides like: no savings options, rewards are paid with PayPal, and not all banks are supported.
Emma Pro 1 Month Free Promotion
When you sign up for Emma, it's free to use. Additionally, when you sign up for Emma Pro with the referral link, you'll be able to get 1 free month to test.
(Visit for more information)
Emma App $15 Referral Bonus
After you've downloaded the Emma app, you'll be granted access to their referral program. Eligible referrals will be able to use your link and connect their bank account with Emma. Then, you'll be able to earn this $15 referral bonus. However, keep in mind that the referrer will be the only one that is eligible for the bonus.
How Does Emma Work?
With Emma, it's designed to sync your budgets, salary, and payments throughout the month. Additionally, it will remind you of any future financial commitments as well. It will monitor your accounts and investments so you'll be provided with real-time information on your finances.
Emma Features
BudgetingInsightsSubscription BreakdownsGames & RewardsCryptocurrency IntegrationComing Soon
Emma can set up your budget by categories and notify you if you happen to go over your limit.
She can also calculate how much you spend on average in each category and adjust your budget.
Emma can give your savings advice and track your fee charges.
These include overdraft fees, fixed account charges and foreign transaction costs.
Emma can separate repeating payments such as subscriptions and bills from your daily spending.
Rewards: You can earn rewards when you sign up for various products and services through Emma. Emma only rewards via PayPal.
Quests. Emma will give out badges and icons as rewards when you explore their app with Quests. This will be in the FAQs section. You must be subscribed to Emma Pro to earn all of their badges.
Quizzes: Sometimes Emma has weekly trivia challenges that also comes with dollar prizes. They are designed to be more engaging to customers and improve customer retention.
Emma can track your cryptocurrency balances. These are the current cryptocurrency exchanges that are supported:
Emma also supports individual Bitcoin and Ethereum addresses.
Long-term savings goals: This will allow you to see your progress and track your finances over a longer period of time.
Total budgets: Emma is working towards allowing you to add a savings amount to your budgets on their app.
Emma Fees
With Emma is actually completely free to use, but they also have Emma Pro available which gives you access to more functions.
Emma Pro
Offering a pro version that gives you more customization, you can upgrade to Emma Pro and have access to:
Making custom categories
Renaming your transactions
Splitting transactions
Exporting your data in a spreadsheet
Adding manual accounts (to track cash or overseas bank accounts)
You can use Emma Pro free for one week but afterwards you will have to pay monthly.
You can also get it for for through their referral program.
| | |
| --- | --- |
| # OF REFERRALS | EMMA PRO FOR FREE |
| 1 people | 1 month |
| 2 people | 2 months |
| 5 people | 6 months |
| 9 people | 12 months |
| 15 people | For life |
Emma Security
There are several ways Emma keeps your account secure:
Emma has read-only access.
Information won't be compromised since Emma doesn't store any banking credentials.
Bank-grade encryption is provided so your data is kept securely.
They are registered with the FCA (Financial Conduct Authority) and the ICO (Information Commisoner's Office).
Emma's security team has worked for big companies like Google so the security is pretty high.
Conclusion
Emma is a pretty convenient personal finance app and easy to use as well. The free versions can even become completely free if you manage to successfully refer 15 people to sign up for Emma.
You can also try out Emma Pro for free with a one week trial.
There are some slight drawbacks to Emma however.
Some drawbacks include:
She only works with a limited number of banks in the United States
She doesn't have a savings category
Her rewards are paid out via PayPal
If any of these inconvenience you, you might want to consider using a different app similar to Emma such as Cleo, Mint or YNB.