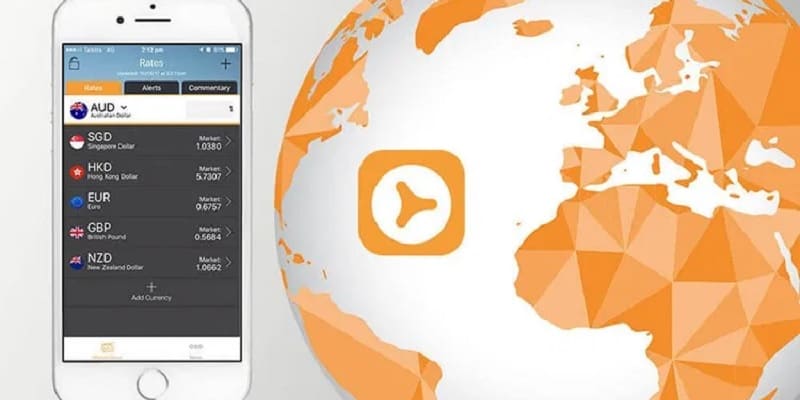 OFX has an offer that allows you to initiate transactions at any time in about 55 currencies. One of the most eye catching things about OFX is their low prices. There won't be any transfer fees included, and their exchange rates is one of the best in this platform.
OFX's evidence in popularity is in the numbers. There are over 3,250 transfers made every day, this company is able to handle over $100 billion for foreign exchange transactions.
*Compare this to Xoom, TransferWise, and Remitly for international money transfers*
OFX: In a Nutshell
Pros
Easy online setup
No transfer fees
Low exchange markup fees
Can initiate transfers 24/7
Mobile app
Excellent customer service
Cons
There won't be credit or debit card funding options
No same-day or overnight delivery option
Local cash pickups aren't an option
Not available in Montana, Nevada, South Carolina or Wisconsin
How it Works
You are able to send money with the OFX webpage, mobile app, or phone customer services. The payment and delivery choices depend on the bank account you have with either a direct debit or a domestic wire transfer option.
OFX will even take transfers of at least $1,000 USD, there won't be any limitations to the amount you can transfer.
Mobile App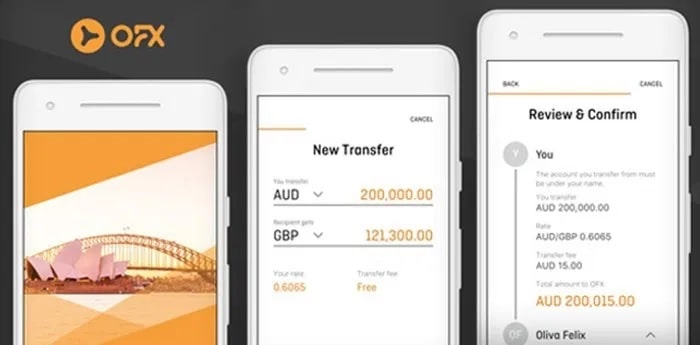 Their app is available on iOS and Android. They will allow you to see the live market exchange rates, and have an international money transfer. OFX is also able to track your money as it's being transferred from anywhere at any given time.
(Visit OFX for more information)
Step by Step
There are some instructions provided on how to use OFX:
Sign up online.
OFX will call you to finish creating your account and to answer any questions and concerns you have.
OFX can ask you to put in more documents and information if they need more to verify you.
Sign into the OFX market and recieve a live exchange rate quote.
Put in your recipient's bank information and finish your deal.
Send money from your bank to OFX in no more than 48 hours.
OFX will handle the rest of the process.
Rates and Fees
No matter the spending amount, OFX will not have any transfer fees attached at all. In other words, the amount you choose to transfer will be converted to the amount you've picked with the exchange rates.
With the exchange rates, OFX will give one of their best numbers in the platform. The more you send, the better rates you'll receive. To see a precise rate of how much you'll need to pay, you will need to have an account and log into it.
Whenever you've made a transfer, you will then receive a final exchange rate that you yourself will be able to lock i. This will give you time to transfer money from your bank to OFX without stressing about the rates changing all of a sudden.
OFX Transfer Speed
When you transfer funds, how fast it comes in will depend on:
Bank holidays
Weekends
Currencies involved
Payment method
Domestic vs international transfer
Transferring internationally with OFX will normally take about 2-5 business days. It will also take about a day or two for the company to get the money from your bank account. And another day or two to send it to your recipient. Since there are other services that are able to wire money internationally almost immediately, OFX's funding speed isn't their best quality.
OFX Satisfaction & Customer Support
OFX has a worldwide support team in offices like: Australia, the United States, the United Kingdom, Canada, New Zealand, Hong Kong, and Singapore. With the amount of offices provides globally, this company is able to give phone and email customer support at any time of the day. However, there won't be a live chat option online, make use of their composed list of details on OFX's FAQ webpage.
There is a rating of 4 out of 5 stars on TrustPilot for OFX. In these reviews, there are some complaints and issues such as:
Slow or lost transfers. Since OFX has a day or two funding speed, customers do get frustrated that transfers take a little longer than said to. When you send money to places such as: Canada, Australia, New Zealand, and countries in Europe, it will take about 2 days to process. But, you can expect transfers towards developing countries to take a little longer. There are some factors to delay this process such as: regulations, unstable finance institutes, poor communication, fraud, or corruption.
Sudden account closure. OFX reserves the right to close your account for any given time or reason with no heads up. Even if it doesn't look fair to you, OFX is required to follow rules and regulations in the countries they work in. In other words, it means the company holds the responsibility to assist avoiding bank frauds, money laundering, etc.
OFX Security
There are protection and security measures in place such as:
Identity protection. Passwords, security questions and automatic time-outs are used to keep your account safe.
Fraud protection. OFX has a multi-layered way of finding and preventing fraud with advanced technology that keeps track of log ins and transactions to suspect suspicious activity.
SSL encryption. This is an encryption that protects your information from being taken, you'll be safe when you sign into OFX's online servers.
With all of these protection measures, you are able to follow the practices to help keep your information secure such as:
Tell no one your passwords and security information to prevent someone using your online account.
Get the security updates and have an anti-virus software to secure your account from virus attacks.
Identify and delete email scams, and filter and delete spam.
Stay away from using unsecured WiFi connections for protected transactions like banking or shopping online.
Bottom Line
If you don't need a fast transaction then OFX is a good fit for international money transfers for you. They have low prices and provide great customer services. But, if you do want to make money transfers faster, then you need to look into a different transferring service that has that feature.