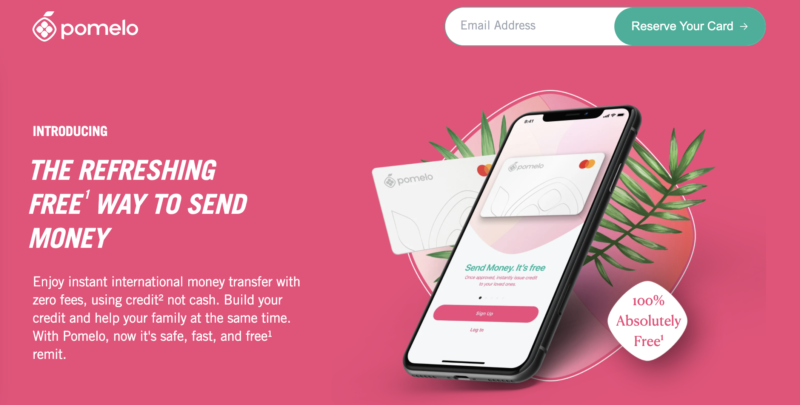 Pomelo Card and mobile app is launching soon when you reserve your card today, you can earn a $20 waitlist bonus. See other referral bonuses here.
Send or pick up money without waiting in line and get instant transfers with zero fees. It's the modern way to send money internationally and grow your credit quickly. Continue reading below to learn more about Pomelo Card's features and their pre-launch bonus.
Find promotions Wise, Cash App, and Remitly. See the best money transfer service offers here. 
Pomelo Card $20 Bonus & $20 Per Referral
Earn a $20 cash bonus when you join the waitlist using a referral link. Just enter your email address to join. No deposit requirement is required. One you're registered you can make $20 per referral.
We don't have an active referral link, however if you do go ahead and share it in the comments section below!
---
How Pomelo Card Works
The Pomelo app makes it easy to send money and stay up-to-date with family spending. Enjoy instant international money transfer with zero fees, using credit not cash. You build your credit while also helping your family at the same time!
Here's how it works:
Apply and get approved for the Pomelo card and invite your family anywhere in the world.
Send money to your family virtual or physical cards. No more waiting to pick up cash.
Observe spending and pay the bill while building credit in the United States.
Pomelo Card lets your family access the funds instantly, so they don't have to wait. As of right now, you can send up to $1,000 at a time with Pomelo. Later on, this amount might increase.
Please note that you have to be a U.S. citizen or a permanent resident whose 18 years and older and must have an iOS or Android smartphone.
Not only that, if you have low or no credit, you can easily use the Pomelo Scured Card. Just deposit the funds as you would normally remit and Pomelo will issue you a secured credit line that will help you build credit.
---
Pomelo Card Fees & Rates
Pomelo Card charges the best real-time exchange rate with every purchase, not only that they don't have any transfer fees. Compared to other money transfer services that makes you pay up to 7% in transfer fees.
Conclusion
Pomelo Card lets you make instant international money transfers anywhere in the world with zero fees. You can send money to your family and build your credit all at once. Just join the waitlist and register for an account to get a $20 cash bonus.
Find all the best money transfer service offers here.