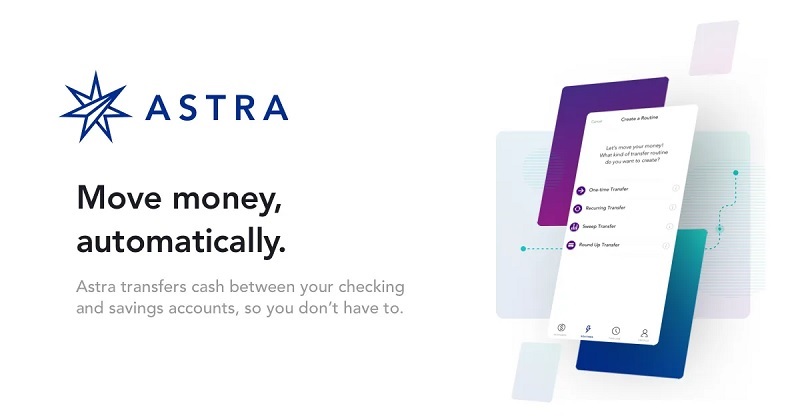 Astra is an app that allows you to personalize your account with features that will help you automatically save money. It takes funds from your checking account and puts it into your savings account. You can choose how much you want to save to match your saving goals.
In this guide , we will breakdown everything you need to know and review the app.
How Astra Works

Astra is an app that will automatically transfer money from your checking account into your savings account. Here is how it works:
Download Astra & Connect Your Account
To get started, you will need to download Astra on iOS or Android and provide some of your personal information. Once you are verified, you will have access to your financial accounts and can set up automated transfers. Your Astra dashboard will display your account balances and show you if you are on track with your savings goals!
(Sign Up Now)
Automate Transfers
Once you link both your checking and saving account to Astra, you can set up smart automation which allows you to move money without having to do anything:
Set a maximum value on your checking account and any additional funds will automatically transfer to your savings account.
Set up a round up program that rounds your purchases to the next closest dollar amount. Any money rounded up will be saved.
Credit card alerts and notifications
Save a percentage of your paycheck
If your income or your account balances fluctuates, it' will be okay because Astra will not initiate a transfer if your balance is low. The automated routines respond to your finances in real-time and send you notifications to move money.
If you take advantage of this app, you can move up to $1,000 per transfer between accounts.
Bottom Line
Astra allows you to interact between accounts in a new personalized way. This makes saving money effortless, and the best part is that the app is free! I would definitely recommend you checking out the app.
For other automatic savings apps, check out Digit.co, Acorns and Qapital. They are currently offering promotions that are worth taking  a look at.