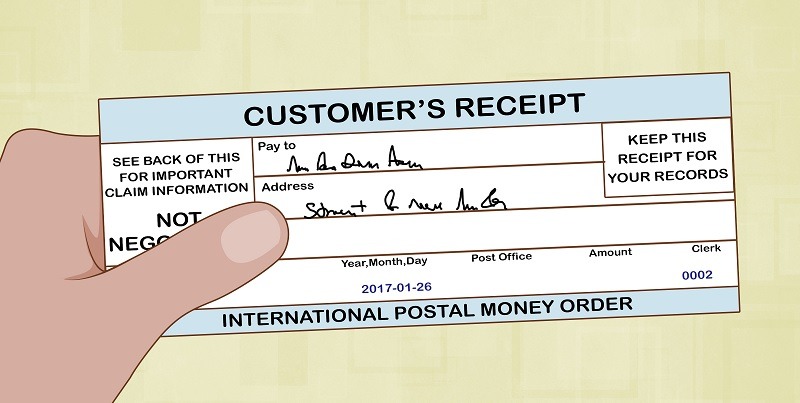 Money Orders are a certificate, usually issued by the government or a bank, that gives you access to cash. Similar to a check, they are a printed order for payment.
Continue reading to find out more about Money Orders.
How Money Orders Work
Money orders operate similar to a check. All you need to do is fill out the information on the form when applying. However, they do have a max limit of $1,000 per order. Thus, if you need to send more than this amount, you may need to send multiple money orders.
All the information you filled out on the form will be printed on the Money Order. You won't be able to change the information on Money Order, but if you want to cancel a money order you will need to request a stop payment. See the picture below for an example of a Money Order issued by the USPS.
Banks and Credit Unions usually charge fees for issuing money orders. The dollar amount you place does not exclude these fees so be sure to know all the costs that come with issuing a money order. Consider convenience stores or other lenders that may have lower fees when requesting a money order.
Money Order Features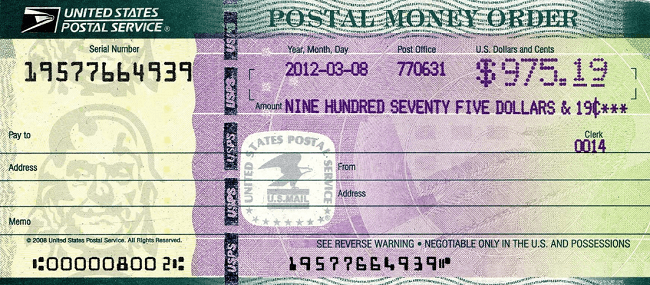 You can track or cancel Money Orders, and they're always "made out" to a particular recipient.
All information will be pre-printed on the face. (See Above)
Uses:
Accepted at banks, businesses, & individuals.
Are a form of "guaranteed" payment.
Less expensive for recipient than credit cards. You may have noticed that credit Cards usually come with their own usage fees.
They can cost up to $5.
You can get them at check-cashing locations, convenience stores, gas stations, drugstores, post offices, & retailers.
Advantages and Disadvantages of Money Orders
Money Orders are much safer than personal checks. While personal checks are prone to bouncing, money orders are a form of guaranteed payment.
Furthermore, personal checks contain your routing and account number printed on the bottom. This information is sensitive and makes you vulnerable to fraud and identity theft.
Advantages
Money orders do not include personal information, such as your bank's routing number and your bank account number.
The recipient can cash the order at a local bank or credit union—there's no requirement to go to the issuer to have it cashed.
Money orders can also be deposited into a bank account, for no fee.
The money order can be issued in one country and be cashed in another country.
Disadvantages
Money orders can be more difficult to track than a personal check—to find out whether the money order has been cashed, for example, can require forms and take weeks.
Cashing the money order can incur a fee.
There may be a delay in getting the funds if they are cashed at a bank other than the issuer.
Money orders can be fraudulent; be wary about receiving them from people you don't know and don't spend money orders you deposit in the bank until you know the bank was able to cash them.
Money orders can be more difficult to keep track of than a normal check. To know if a personal check has cleared, all customers have to do is head to their local bank or go online into their bank account.
To track a money order, the issuer must fill out tracking forms and pay an additional fee to learn whether the money order has been cashed. The entire process can take weeks, but luckily, the USPS offers a money order inquiry service that can help make the process shorter.
How To Buy A Money Order
Several institutions offer Money Orders, however they do charge fees for issuing them. Consider these fees when requesting money orders.
Head to a Bank or Credit Union, transfer your funds from your savings or checking accounts
OR head to a retailers, convenience store and pay for your money order with cash, a debit or credit card
Tell the amount you plan to put on the money order and who it's for when they print it out
Keep the receipt to track the money order and cancel it if needed!
When Should I Use A Money Order
Money Orders may not always be accepted as a form of payment, but they provide a way to send money more securely.
Send a payment more securely. Unlike checks, money orders don't include your bank account number.
You don't have a checking account and need to pay bills. Since money orders require you to pay in advance, the money isn't tied to any bank account and can be sent to other people.
Worried about bouncing a check. Because money orders are prepaid, they can't be rejected for insufficient funds.
Another option: A certified check or a cashier's check, both of which guarantee payment and don't necessarily have a $1,000 limit, unlike many money orders.
You're mailing money. A money order helps ensure that only the recipient can use it, unlike mailing cash.
You're sending money internationally. Not all money orders work abroad, but U.S. Postal Service money orders can be sent to about 30 countries. ACH transfers can't always be sent overseas and this allows a way to send money to relatives or for whatever reason.
Conclusion
Money Orders and a safer and easier payment alternative. When purchasing Money Orders you may have to pay up to $5 in fees so consider a convenience store, etc.
Make sure to keep receipt to keep track of your Money Order or request stop payments. Furthermore, check out our Best Bank Bonuses, Savings Rates, and Credit Card Bonuses.