Wise is offering a service that's low prices and simple for international currency transfers. This company has a goal to send money all around the world with a small and clear fee for the mid-market exchange rates.
This is a very well known service, their clients use this to send more than $1 billion every month with Wise. As of right now, you are able to send money to about 71 countries and get money form about 43 countries. There are more than 1,000 country combinations with about 49 different currencies.
Find more money transfer services offers from Cash App, Remitly, and Xoom. 
Compare top money transfer services with SuperMoney.
Free International Transfer Offer

If you use a referral code, you'll be able to receive a free international transfer of no more than $500. After you've created an account, you will be able to begin making referral bonus money too.
Feel free to leave your referral code in the comments section down below.
(Visit Wise for more information)
Invite 3 Friends & Get a $75 Bonus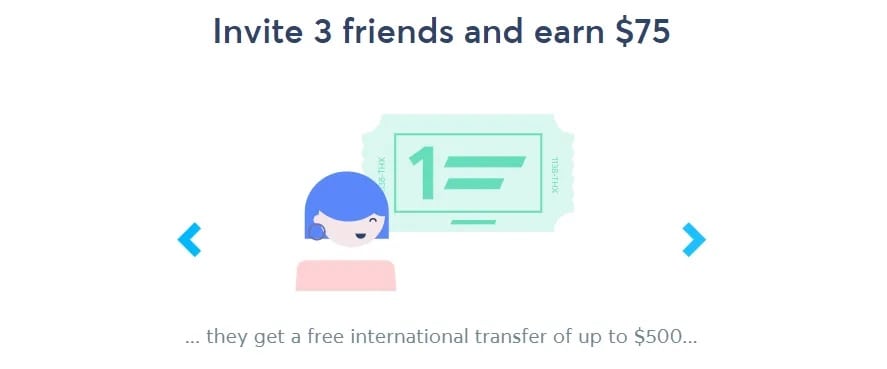 After you've created an account, you'll be able to make referrals to gain bonus money. Just invite 3 of your friends and you can gain a $75 bonus.
Sign into your Wise account.
Go to "Invite & Earn $75 USD"
Share your invitation link with friends.
Referred friends will also receive a free international transfer no more than $500.
You can gain a $75 bonus when all of your invites transfer more than $300.
View the terms and conditions for the referral system here.
---
Wise Summary
Sending Channels
Website & mobile app
Payment Options
Bank account only
Delivery Options
Bank account only
Minimum Transfer Limit
None
Maximum Transfer Limit
$10,000/transfer to $1 million/transfer,
depending on origin and direct deposit vs wire
How Wise Works
Wise's personal approach to money exchanges bypasses the middle man. This company will charge a smaller price than their competitors. How does Wise do this?
This company has stockpiles of many different money currencies globally. Whenever you send $1,00 USD to someone in Canada, Wise will put your $1,000 into their USD stockpile, then give your friend the same amount in Canadian currency from that stockpile.
Using this strategy will decrease the need to get a third party bank involved. This way Wise will be able to give their services with the bank rates and no more. It's a really excellent deal that's hard to find anywhere else.
Borderless Accounts
With the multi-currency accounts like a borderless account, this will allow you to hold your money in more than 40 different currencies and convert it when the mid-market exchange rate is in your favor. This is similar to owning many local bank accounts globally all connected to one organized online account.
If you sign up for a borderless account, you will receive a personal account number and the bank information with the Wise debit Mastercard. Using this account will allow you to get money without having to pay for a fee with more than 30 countries.
Moblie App
The Wise app is available for iOS and Android smartphones and tablets. They will allow you to send money overseas, look at the status for your transfers and then cancel it. You'll even be able to manage your own borderless account with the app and exchange money when you have enough.
This app has easy access in the palm of your hand and has an amazing customer experience. Their app has 4.8 out of 5 stars in the Apple App Sotre and 4.6 out of 5 stars in the Google Play Store.
Wise Step-by-Step
Simply create an account and send money using the instructions provided:
Sign up for an account. Choose to connect with your email address, Facebook or Google account.
Verify yourself. These requirements will differ all depending on how much and where you're transfer from. You need to at least give them a copy of your ID and confirmation of address.
Set up a transfer. Put in the information of where you want the money to be received and how much you want to send. People you can send to would be: yourself (different account overseas), a different person, or a business.
Send the money. Use your preferred payment method, including bank transfer, debit or credit card, SOFORT, Apple Pay or Android Pay. Depending on the currency will make your choices vary.
Conversion. You don't have to do anything here. Wise will convert your money at mid-market rate.
Notification. The converted money is sent to the recipient, and both parties will get an email notification of the transfer.
Wise Fees
Using Wise, you will know the exact amount that you will pay for fees each time you want to transfer money. This is all thanks to their transparent fee system, it's not really an industrial standard.
With most currencies, this company will also fully guarantee the exchange rate, this way you know the exact amount the person you're sending it to will get. Compared to other banks, they will also guarantee their exchange rates too, they normally have a larger exchange rate.
They will charge at least a percent of the transfer amount, and a flat fee for specific country combos. The real numbers of it will all depend on the money you will be sending from and to. Specific fees can differ all depending on how much you're wanting to transfer.
Exchange Rate
This company will lock your exchange rate for a limited time of 24 hours, and 48 hours for other exchanges, not including Brazil (72 hours). The locked-in rate is very well known as the guaranteed rate as well. Keep in mind, that TransferWise has to get your find in a certain time frame, or the amount that the person you're sending to is no longer guaranteed.
Other Fees
Since Wise has their local bank accounts to get and send fund, there won't be any additional fees when you send and receive banks, even no third party bank fees.
Lots of banks will normally charge you an additional fee to get an internatioal SWIFT payment. Be sure to ask the receiving bank if there are any extra charges for any SWIFT payments coming their way, if there is then you should ask the total cost.
If you reside in the U.S. and are sending money inside the United States, you shouldn't use SWIFT to transfer money. There are other lower priced or free substitutes if you use a domestic wire or ACH direct debit. Like the rule of thumb, you should probably only send USD with SWIFT if its from anywhere else other than the U.S.
Wise Transfer Speed
The transfer time altogether from the U.S. can take a little more than a week to process and receive. Using a direct debit bank transfer has to come from 1 to 5 business days to get to Wise. After, the money conversation will take about 2 business days. Then, the delivery for funds overseas will also take about 1-2 days. However, if you need to get money fast, then you are able to cut the funding time with a domestic wire transfer from your direct bank. But, this normally has an extra fee attached to it.
Wise isn't the fastest if you compare it to their other competitors. Other services like MoneyGram and Xoom are able to wire their money with international banks in the same business. Remember that you will be charged an additional fee for a faster transfer.
Conclusion
It'll be difficult to find a better exchange rate option other than Wise. Even when their program was designed for anyone to use. If the lower prices are appealing to you, then Wise is an excellent option. However, if you want same day or next day transfers, then you should consider a different option.
(Visit Wise for more information)