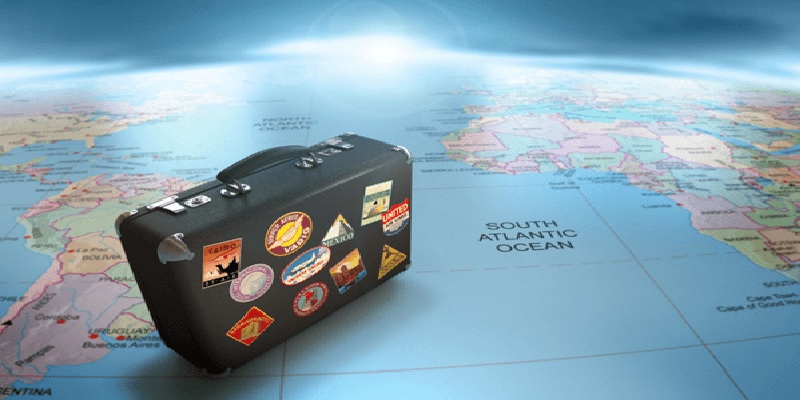 This guide will go over all of the best banks for foreign debit card transactions and ATM withdrawals. Normally, when you travel internationally, paying a premium in foreign transaction fees on your credit card is nothing new. However, some people might not know that debit card transactions and ATM withdrawals can be victim to overpriced transaction fees.
Some helpful bank guides are:
Read below for more information on how to avoid foreign transaction fees.
International Debit Card Transactions/ATM Withdrawals
Usually, there are 2 types of fees that come with foreign debit card transactions:
Flat fees charged per transactions. These are typically a fixed-dollar amount fee charged for each ATM withdrawal or transaction. It will range from $2 to $5. This is similar to the type of fee most banks will charge for out-of-network ATM transactions.
Foreign Transaction Fees. The conversion charge levied by the bank for transactions conduction in a foreign currency. Normally, it's charged as 1% to 3% of the total transaction.
Plus, banks also have 2 ways to apply foreign transaction fees:
Making an ATM withdrawal, banks will combine both types of fees. In other words, you must pay the flat fee for using your debit card at a foreign ATM. Additionally, you have to pay a percentage of the total amount of cash you withdraw. If you use your debit card in a transaction outside of an ATM, you still have to pay the foreign transaction fee, but not the flat ATM withdrawal fee.
Less commonly, banks will charge only a flat fee for ATM transactions. These banks normally charge a percentage fee but not a flat fee for other foreign transactions.
Best Banks with Lowest Fees for International ATMs
Take a look at the banks that offer the lowest foreign transaction fees below.
TD Bank Beyond Checking
TD Bank is a traditional banking institute founded in 1852. They have about 1,300 branch locations in the United States.
The TD Beyond Checking account is one of the best checking options, here's why:
TD Bank fees are waived at all ATMs. This includes TD ATMs and non-TD ATMs. Both domestic and international ATMs as well.
Surcharges from non-TD ATMs will be reimbursed when you keep a minimum of a $2,500 daily balance. This includes surcharges at international ATMs as well.
TD doesn't charge an International Service Assessment (ISA) fee.
Keeping a $2,500 daily balance will also help you waive the monthly fee included with this account.
Additionally, you can earn a $300 bonus when you get direct deposits of $2,500 or more in the first 60 days of opening your account.
Betterment Checking: No-Fee Online Checking
Betterment has released their Betterment Checking account and is one of the top free checking account options.
All ATM fees reimbursed worldwide. Get ATM fees reimbursed directly to your account without having to do anything. It's for all ATMs, worldwide, where Visa is accepted. You'll get a notification confirming that the fee is reimbursed after you withdraw money.
Visa foreign transaction fees reimbursed. Betterment is reimbursing Visa's 1% fee on foreign transaction fees, purchases, and ATM transactions. This combined with the perk above, you'll own a pretty great travel card to use.
No monthly fees, minimum balances, or overdraft fees.
Mobile check deposit is available for all Betterment Checking members.
Checking is FDIC insured for up to $250,000.
Charles Schwab Bank
The Schwab Bank High Yield Investor Checking account will reimburse any ATM fees from cash withdrawals worldwide. It doesn't matter which network is being used. Additionally, there aren't any currency conversion fees for debit card transactions in a foreign currency.
This account is an excellent option to have while you're traveling overseas. It's a Visa card and acceptance is great. Signing up for this account can be done in a matter of minutes online. Just open a brokerage account with Charles Schwab and connect the checking account to it. Furthermore, you will not need a dime in your brokerage account or have any activity.
Fidelity Cash Management Account
Get reimbursed for all ATM fees worldwide when you use the Fidelity Debit Card as part of a Fidelity Cash Management Account. Get access to cash at more than one million ATMS worldwide anywhere you see the Visa, Plus, or Star logos. However, transactions outside the country will come with a 1% foreign transaction fee as well.
Capital One 360
Their online-only banking option enables customers to not pay a flat fee or foreign transaction fee. Capital One states that their MasterCard can assess a percentage fee, but "covered" by Capital One/
Remember, this will only apply to Capital One 360 customers, consumers who bank with them through a physical branch are subject to normal foreign transaction fees. It will not reimburse fees charged by an-out of network ATM operator.
Discover Bank
Discover Bank customers can use their debit card at foreign ATMs and make other transactions abroad with no fees. However, the catch is that Discover Bank cards have limited acceptance outside the U.S., Canada, Mexico, and some Caribbean nations.
CitiBank
When you bank with CitiBank, you can use your card to withdraw at CitiBank branded foreign ATMs with no extra charge. Customers of CitiBank will pay a $2.50 foreign transaction fee with a 3% conversion charge on any out-of-network ATM transaction. Fortunately, CitiBank has a large international presence and makes it easy to find a location overseas online on their page. It even comes with welcome bonuses as well.
More ATM Fees Data with Common Banks
Here are more foreign ATM withdrawal fees and foreign purchase fees data for other major banks:
Conclusion
Be sure that you talk with your bank first before you go travel overseas. This way, you'll be able to find out if they will charge you a foreign transaction fee or not. Usually, most banks will waive these fees for premium customers, or customers that always carry a large balance.
However, if your bank has a physical branch or partner bank in your destination country, you might be able to use those branches to stay away from foreign transaction fees. Be sure that you keep an eye out for fees charged by foreign ATM operators since they are separate from charges levied by your bank. The ATM itself will tell you if it will charge you a fee like this.